CNC Turning Programming and Operations
Introductory Video
A CNC programmer operates automated manufacturing equipment to turn raw materials into functional products. He is responsible for reading and interpreting engineering drawings, for programming CNC machine tools, and for setting the proper cutting conditions depending on the work piece material, cutting tool materials and other important technological attributes, so that the required specifications are met.
In this course you will learn how to create CNC programs for simple rotational geometries in CNC lathes and CNC turning centers. You will be able to apply the basic preparatory commands ("G" codes), miscellaneous functions ("M" commands), as well as important canned cycles (contour roughing, contour finishing, simple drilling, peck drilling, tapping and thread cutting) to write your own CNC programs for turning operations. In addition, you will review several CNC programming examples, focusing on standard machining operations performed in typical CNC turning centers, and you will also review the basic steps for installing a lathe chuck on the machine tool's spindle. In addition, you will be familiarized with the selection, proper installation, and safe machining of the different types of chuck jaws available, to safely work-hold engineering materials according to their mechanical properties.
Addressed to
The "CNC Turning Programming and Operations" course, is addressed to:
those interested in working as CNC programmers / operators, regardless of their prior experience or knowledge in the field of CNC machining
those who already have experience and technical training in conventional machine tools (practitioners, manufacturing engineers, etc.) and wish to leverage professionally by acquiring relevant experience and technical training in CNC machine tool programming.
students and graduates of Technological / Engineering departments who are interested in integrating their theoretical knowledge with practical and empirical aspects related to CNC machine tool technology.
those who wish to enrich their knowledge concerning CNC turning programming and operations related to inspection, hardware, work offset and tool offsets definition.
Prerequisites
No prerequisites are required for attending the "CNC Turning Programming and Operations" course. The course is suitable to anyone and to those with no prior knowledge or experience.
Benefits of Participants
Upon successful completion of the "CNC Turning Programming and Operations" course, you will:
be able to develop CNC programs based on the fundamental preparatory and miscellaneous functions for simple rotational contours,
become flexible and productive in real-world applications related to CNC programming, through the development of productive and qualitative CNC programs using the canned cycles referring to contour roughing, finishing, thread cutting, simple and peck drilling and tapping,
be able to distinguish the advantages and limitations of CNC turning centers compared to conventional turning machines (lathes) and their corresponding accessories,
be able to perform visual inspection including the regular-basis checks referring to the coolant level, the oil/grease level for spindle maintenance, and the air pressure, depending the configurations of CNC turning centers.
be able to maintain and install a power chuck to your CNC turning machine tool,
be able to select, install and machine different top jaws for your chuck, based on the workpiece material you want to process,
be able to set the work offset (work coordinate system) as well as the tool offsets, corresponding to the several tools related to your CNC programs.
Duration
The 'CNC Turning Programming and Operations' course consists of interactive videos with total duration of 110 minutes. You can watch the videos at your convenience on any day and time, depending on your studying rate and your available time.
By purchasing this course, you will receive a personal password giving you access to the content; access to the course content will last for one (1) month, during which, you will be able to forward questions and comments to the instructor through our e-learning platform.
Certificate of Attendance
To successfully complete the course, you will need to take the final online exams, which consist of a quiz comprising 50 multiple-choice questions (minimum success rate required: 80%).
Upon successful completion of the course, you will receive online the "Certificate of Attendance" from the CNC Training Center, which you can publish to social networks and wherever you consider as beneficial.
Not ready to buy yet?
Videos:
Introduction – 2'.01''
Conventional CNC programming – 4'. 25''
Turning kinematics – 5'. 10''
Cutting conditions in turning – 4'. 24''
Coordinate systems – 6'. 42''
G-code programming basics – 10'. 51''
Preparatory functions (G-codes) – 12'. 05''
Relation between theoretical and actual programming toolpaths in CNC turning – 4'. 48''
Left and right tool tip radius compensation – 5'. 05''
Canned cycles for CNC turning operations – 8'. 19''
Miscellaneous functions (M-codes) – 3'. 56''
Complete CNC turning program in a simulation environment – 7'. 13''
General inspection / power on / Haas control unit operations for CNC turning – 9'. 10''
Mounting a chuck to a CNC turning center – 4'. 33''
Mounting the top jaws in a CNC lathe chuck – 7'. 02''
Steps for setting the tool offsets in a CNC lathe chuck – 6'. 53''
Work offset definition in a CNC lathe – 1'. 22''
Complete CNC program for a typical part – 3'. 23''
Concluding summary – 6'. 00''Turning kinematics – 5' 04''
Total duration: 1h 51min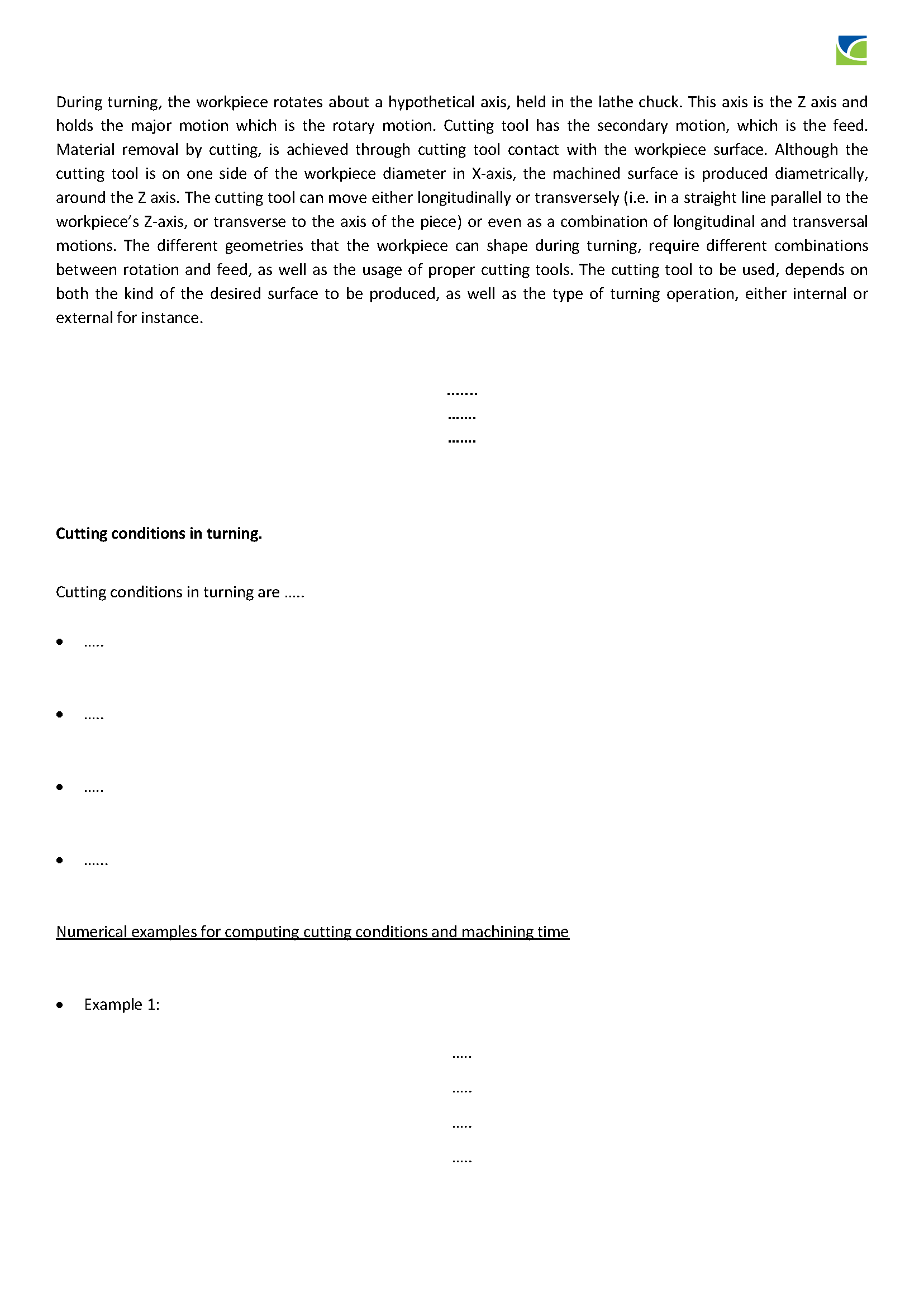 There are no reviews for this product.